A Mobile Heavy Duty Alignment Company
Buses | Trucks | Cranes | Tractors | RV's | Trailers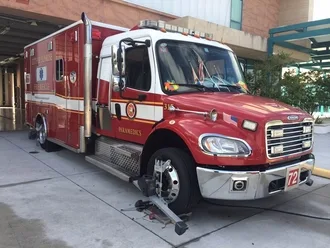 Misaligned wheels can affect a fleet's safety, handling, fuel efficiency, and tire longevity. Specializing in alignment and balancing, Our professionals are licensed and experienced to service your truck or heavy-duty fleet with state-of-the-art Hunter precision technology. Our mobile services mean it's never been more convenient to service your fleet.
Fleet discounts available
Licensed and insured with certified technicians
Using only the best engineering technology by Hunter
We bring our services to you!

Our specialized technicians have years of experience with numerous heavy duty vehicles including commercial trucks, trailers, RVs, buses, and cranes.
Optimize fuel consumption and tire longevity with routine wheel alignment.
Wheel balancing is essential for driving safety and tire performance, preventing uneven wear, and vibration.
Complete suspension diagnostic and repair get your heavy duty fleet safely back on the road as soon as possible.
Specialized tire truing restores roundness to heavy-duty tires by shaving off spots that make it uneven.
Safely mounting and dismounting heavy-duty tires reduces risk to personnel and equipment.
Over 15 years of heavy-duty alignment experience
Our expertise and high-quality service has made us one of the most trusted heavy-duty fleet alignment companies in Florida and Georgia. We use only the best Hunter equipment to provide alignment and balancing with razor-sharp precision. Our licensed technicians are available to service your heavy-duty fleet at any time anywhere within our service area. We're just one call away.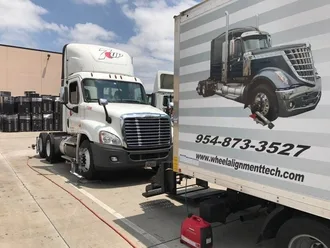 Superior equipment from Hunter
Our mobile shop is capable of servicing heavy-duty multi-axle vehicles with a high degree of accuracy. Hunter's high-performance wheel balancing and wheel aligning technology allows our experienced technicians to provide quick and efficient servicing to the largest of fleets.

Benefits of working with us
Very convenient, they come to you. Excellent job. Highly recommend them. Great value as well.

We highly recommend this company for your alignments, because that's all they do and are specialized in.

The best alignment shop. Good people, fast and quality job 👍👍👍👍

The best alignment company for trailers and trucks , call ahead and they will go to your place.

Outstanding service, great price, highly recommend.
We are available to service your heavy-duty fleet across Florida, Georgia and Texas.
Miami, FL

Pompano Beach, FL

West Palm Beach Beach, FL

Orlando, FL

Atlanta, GA

Forest Park, GA

Norcross, GA

Suwanee, GA

Marietta, GA

Austell, GA

Conyers Ga

Dallas, TX

Houston, Tx

Charlotte, NC

and more...